I'm blogging from a motel in Racine, Wisconsin but despite how that sounds I'm having a fantastic time!
But Song A Week doesn't go on holiday, even if I do. Last night, in a spare 20 mins while we were waiting to go out in Chicago, I wrote the words for song 29; and at half eight this morning, in our hotel bathroom, I recorded it. However, though the song's finished, I can't seem to figure out how to get it online just yet.
In the meantime, here's a statue of a man embracing a massive fish.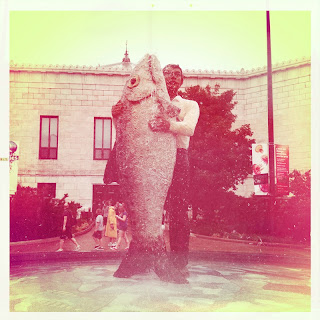 - Posted using BlogPress from my iPhone in the USA. Please don't burgle my house.